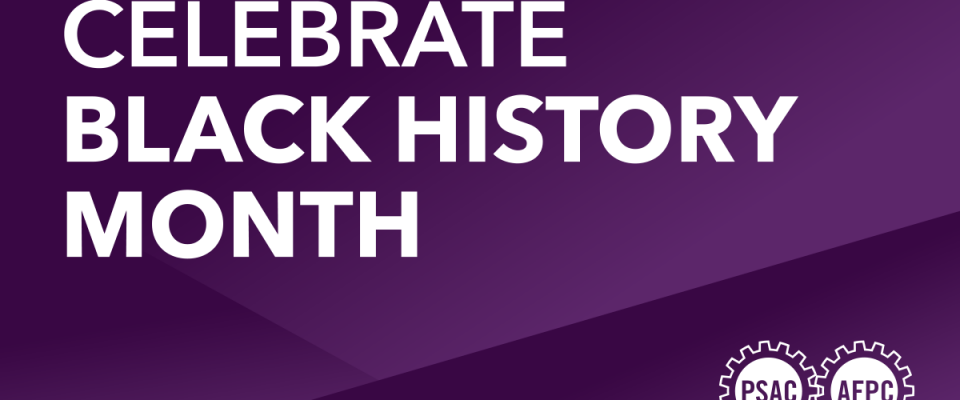 Black History Month is a time where we can reflect, honour and celebrate the many contributions made by Black Canadians and all people of Caribbean and African heritage in the progress and development of Canada, as well as their impact on its history and our labour movement.
Whether it is in unemployment rates, wage gaps or opportunities for advancement in the workplace; Black Canadians continue to face barriers in employment. Black trade unionists in Canada have continued to demonstrate their leadership and activism in the Canadian labour movement by fighting for social change through union organizing and ensuring language in collective agreements reflect the fight to end racism and promote equality in the workplace.
Systemic anti-Black racism is significantly present in Canadian policing and courts:
While the government of Canada's consultations for a national anti-racism strategy have been underway, there is still much work left to be done. PSAC has provided its initial input on the strategy and hopes the government will continue to engage with key organizations like PSAC to ensure that anti-Black racism in Canada is addressed.
In late February 2018, in a presentation to the Senate Committee on Human Rights, witnesses testified to the importance for the government to publicly recognize Canada's participation in the Atlantic slave trade based in Nova Scotia. They urged our government to issue a public apology to the descendants of those enslaved and to become an international leader in eliminating racism. PSAC encourages the government of Canada to hear those voices and issue an apology that would move toward reconciliation with Black Canadians.
PSAC encourages its members to commemorate Black History / African Heritage Month by learning, organizing or participating in events that raise awareness about the contributions of Black Canadians and those of Caribbean and African heritage to history, and particularly of Black workers to the Canadian labour movement.